Costa Rica Transportation
Getting from Point A to B…
Costa Rica transportation can present a bit of a challenge. The country is mountainous, driving conditions can be extremely hazardous due to rain, fog, "derrumbes" (or, small avalanches of mud and rocks), and crazy drivers (especially those behind the wheels of our ubiquitous semi-tractor-trailors). But, never fear, we have taken care of all that for you. All of our Costa Rica vacation designs include Costa Rica transportation in one, or a combination, of the following forms….
Private Transfer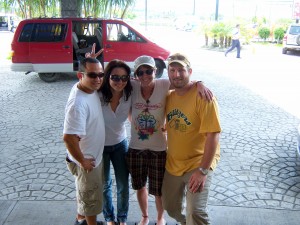 This is just how it sounds, a private van and bilingual (or semi-bilingual) driver just for you. The advantages? It runs on your schedule, meaning we can pick you up when you want, stop as often as you want (within some degree of reason) and there is no waiting around for stragglers to finish doing whatever when they were supposed to be on the bus a half hour ago! Get the picture? The drawback? Privates are a considerably more expensive choice than the Tourist Van (described below). On many of our designs, the "first-leg" of the itinerary is done via private. That way we get to know you and you us and it helps things get off to a really cool start. We like that and so do our customers.
Tourist Van Transfer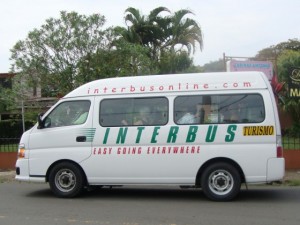 We generally use the two major tourist van services for Costa Rica transportation, Grey Line and Interbus (pictured above). The vans are usually from 15 to 30 passenger vans with air condition. There are tourist van routes to all major tourist locations within Costa Rica. If you are one that prefers to go off the beaten path a bit, you may have to use private for that reason. Tourist vans do run on a schedule and you will be traveling with other like-minded passengers who want to go to the same place you do at the same time. On most routes there is one stop to let passengers take care of needed business and to refuel. The routes generally take quite a bit longer time-wise compared to privates since you must wait for others to be picked up and dropped off. However, don't confuse the tourist van with a public bus as they are far more luxurious than that, although admittedly less comfortable than the private alternative.
Domestic Flight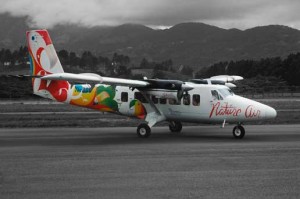 Domestic flights are relatively cheap form of  Costa Rica transportation and there are flights to virtually every corner of the map. Certainly this is the fastest way to go. It usually will be a bit more expensive than either the private transfer or the tourist van. There are two major operators, Sansa (which operates out of the San Jose International Airport) and Nature Air (which operates out of the Tobias Bolanos airport in Pavas). One drawback to the domestic flight is the weight limit. Currently the weight limit is 40 lbs for a checked bag. If you are not a lite packer, that can present a problem.
Other Options
There are a couple of other Costa Rica transportation options not mentioned. One is the Self-drive. We can certainly arrange rental cars for our customers. My usual advice is that if you are going to be in one particular location, say the beach for instance, for an extended time, sure let us have a car delivered to you and then you can turn it in right at the hotel before you transfer to your next location. However, when it comes to trekking across those mountains for several hours, let us take the stress of doing that for you. Then you can just sit back and snap pictures, or sleep.
Finally, public transportation  (the next best thing to hitchhiking) is certainly an option for Costa Rica transportation. We don't recommend it due to the increase time of transfer, hassle of buying the ticket, and for safety and comfort reasons.