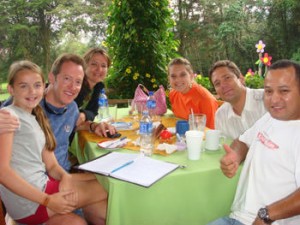 I've written in the past explaining about the Costa Rica vacation consulting model that I currently use with my customers.
Most of them "get it." However, a few are a little slower…
Since everything travel-related these days is so price-competitive, it's completely understandable for folks to get confused about the fact that I do not sell on that basis!
Many people start their Costa Rica vacation planning early. And early could mean 2 or 3 months, or even 6 months to a year out! What they'll start doing is browsing around on the internet in an attempt to find out the best way to do a Costa Rica vacation. Historically I've been contacted early on, only to design and send an itinerary and then have the customer pull a disappearing act on me for a few months. That's because they're just not ready to shell on a few thousand for a deposit or full payment on a prepaid package that doesn't start for 6 months!
But here's the cool thing with the Costa Rica vacation consulting model…you don't have to "pre-pay" anything that's included on your itinerary!
The only thing you are paying ahead is the consulting fee, usually $400 for most itineraries, but could be a bit larger for really big ones. And what do you get for that?
Well, you get me on the line to help you via an open-ended consulting assignment that doesn't terminate until you've completed your trip. For sure, you can still do research about Costa Rica, secretly while day-dreaming at work. But when you get stumped about this or that, all you have to do is send your helpful and friendly consultant (me) an email, or find the time to give me a toll-free call. I'm here to make sure you get steered in the right direction. And because Costa Rica has so many potential "directions", that can be a very important thing for you. Costa Rica is not the place for cookie-cutter vacations, as I posted recently.
The consulting assignment usually starts out with me proposing an itinerary for the trip. But that doesn't have to be booked and can be left open for changes. I will let you know exactly how to book each component of the package and when that needs to happen in order to assure your space. But you certainly don't need to pay a whole bunch of money way up-front and feel like you're locked-in to a vacation itinerary that you aren't completely sure about. Nope, the consulting model leaves everything "open-ended." And that means we can tweak it together and keep doing that right up until it's almost time for you to get on that plane!
Now, doesn't that sound cool?
Of course, there's the added benefit of being in control of how and when your money will be spent. And I will be available 24/7 the whole time you are in the country to make sure everything goes smoothly for maximum enjoyment.
I really believe that the Costa Rica vacation consulting model is the way to go. I wouldn't be surprised to see my model get copied in the future by other agencies. Right now, however, I'm the only one I know of who's doing it this way.
So, take advantage now. There's no reason to wait. Enlist my help at a small fee and start planning your dream vacation to Costa Rica.
Pura Vida!
Watch this little video on the Costa Rica vacation consulting model from yours truly…