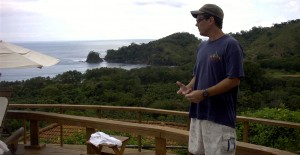 My son Zack, a surfing fanatic, was on an extended 6-month visit a few years ago. His stated goal was to learn Spanish, but the underlying motive was to surf as many of Costa Rica's breaks as possible in that time frame. And we did surf quite a few. One of the best ones was Nosara.
Nosara is popular with the tourists, both for its surf and for yoga. Getting there the easy way one would take the Puente de la Amistad (or Taiwan bridge), then drive over to Samara and finally take the dusty dirt road to Nosara (more specifically Playa Guiones, as that is where the really good waves are) From San Jose, you're talking maybe 3.5 to 4 hours. From Liberia, a bit less.
We decided, however, on exploring the Nicoya Peninsula on our way to Nosara in a slightly more adventurous manner…
As we headed past the turn off to Puntarenas, Yuri and I exchanged glances and at that moment we had the same idea. Let's do this the adventurous way!
That would mean taking the ferry across the Golfo de Nicoya and driving along the coast of the peninsula until arriving at our ultimate destination. One problem with this idea, the roads. There's no paved coastal highway like we have along the central and southern Pacific. Nicoya's coastal road is more along the lines of a rocky horse path. In some places there's no road at all, just beach. And then there are the many rivers you must cross. Don't try this during the rainy season and try to avoid higher than average tides associated with full moons and fuertes oleajes (high seas).
We did make it that day to Samara. When we pulled in La Poderosa, my Mitsubishi Nativa that's getting on up in the years (and kilometers), suddenly lost her clutch. It was night, very dark and as we fiddled ignorantly under the hood, a dude walked up and asked us what seemed to be the problem. We said we weren't sure, but it appeared to be the clutch. We asked if he knew of a good mechanic and to our surprise he informed us that he in fact was a mechanic.
We ended up having the car towed over to his shop and by around 8:30 am the next morning he had us up and running for a bill of around $20. In a land where Murphy's Law often seems to work overtime, it was quite a stroke of dumb luck.
We were trying to do this all in one long run over the course of a day. If you want to break it into stages, I believe it could be an enjoyable and extremely adventurous road trip. But like many of my off the beaten path Costa Rica vacations posts, this exploring the Nicoya Peninsula adventure admittedly ain't for everyone.
Here is how I would advise that you might take part in a similar adventure (hopefully without the car trouble) and explore the incredible treasures of the Nicoya Peninsula's Pacific coast.
Day 1: Fly into San Jose or Liberia airports…take your pick. Actually the way I am going to suggest laying this out, San Jose would be the best choice as it is closer to Puntarenas, where you will take the ferry over to the peninsula.
First Destination: Montezuma
Day 2: If your flight arrived early enough on Day 1, you might already be on the peninsula by now. But let's assume you decided to just take it easy and get an early start on Day 2. You will need to rent a sturdy 4×4 with good ground clearance.
I know I've posted about how self drive tours are a bad idea. And I will continue to stick by that for normal Costa Rica bound tourists, but anyone considering this adventure is not what I would consider normal. It must be someone like me, who tips the scale towards being a little more adventurous than the average sane person.
You will drive down the Caldera Highway to Puntarenas. Make sure to get a ferry schedule and time your arrival with the ferry departure time of your choice. During peak season times like Holy Week (Easter) or Christmas, expect long waiting lines. Other times of the year not so much of a worry. Oh, and once again, I do not recommend this adventure during the rainy season, as the roads are just too bad. Do it during the time frame from December through April.
You will take the ferry, with your car on board, over the Golf de Nicoya where you will land at Paquera. From there you will drive down towards the southern end of the peninsula to Montezuma. I highly recommend you stay in a bungalow at Ylang Ylang (with breakfast and dinner included).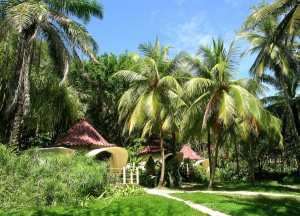 Day 3: Spend the day enjoying Montezuma. You can hike to the waterfall, take a panga (small motor boat used for fishing) to Tortuga Island for great snorkeling, or just relax on the beach. Montezuma is not so much a surfing destination, however.
Second Destination: Malpais/Santa Teresa
Day 4: You will continue along the coast until you arrive at the Malpais or Santa Teresa area. This is the very southernmost tip of the peninsula. Oh I forgot to mention, you will be encountering some of the best waves on this adventure that Costa Rica has to offer. So, if you are a surfer you need to have either brought a board, or rented one somewhere (Puntarenas or Jaco are probably the best choices). The place I recommend staying is Florblanca. Another one of those really special boutique hotels that Costa Rica is famous for.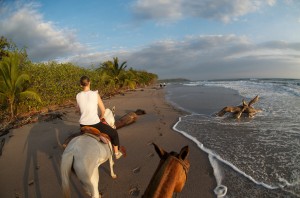 Third Destination: Punta Islita
Day 5: You might want to spend the day surfing the consistently good waves of this area, or continue on. For the sake of brevity, let's continue on. Next stop will be Punta Islita. You will want to get an early start. The roads are really bad and some sections you will have to take the beach. Take your time, enjoy the beautiful scenery, stop in a few chicheros (little bars) and just take in the incredible adventure. You will eventually get to Punta Islita, where you for sure will want to stay at the Punta Islita Resort.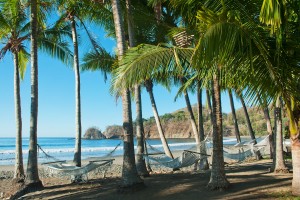 Punta Islita is in my opinion one of the most incredible resorts in Costa Rica. It is super sustainable, features the Islita Art Museum and Creative Center that displays the work of local artists and encourages community development through cultivation of the arts. It is also ultra luxurious, sits an a secluded bay with crystal blue waters and a gorgeous beach surrounded by lush tropical dry forest.
By the way, you can also fly to Islita, for those of you who like the idea of the resort, but not the pain of getting there in this off the beaten path Costa Rica Guy manner.
Day 6: Spend it enjoying this incredible place.
Fourth Destination: Samara and/or Nosara
Day 7: Continue on until you reach Samara. Samara is a great place to stop and spend a night (or even 2), or if you have the energy and stamina, continue on towards Nosara, which is only another hour along a very dusty, but a bit smoother, road. Playa Guiones will be the final destination. It is the most touristic-ally developed of the Nosara area beaches. There are a number of places to stay that cater to the surfing and/or yoga crowd. If you are a surfer, you will love the consistency and long clean lines of this place. The rides go on and on and on…rights and lefts are plentiful…although it can get quite crowded.
Day 8: Keep surfing or head back towards Samara then on to the Pan American Highway where you can either go north to Liberia, or south to San Jose (depending on which airport you will fly home from).
For anyone out there who might consider a motorized trekking expedition like this, I can assure you that it will be the road-trip experience of a lifetime. Like us, you will likely have some mishaps along the way. But those are the things that will make it so much fun to tell others about in the years to come.