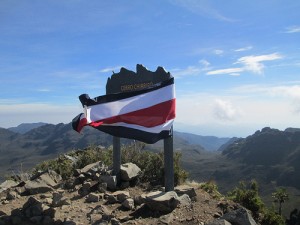 Years ago, while going through some tough times, I had an inspiration to start a men's retreat adventure that I was going to call Moment on the Mountain. I even started a web site by the same name. Well, like many of my bright ideas, this one never saw much daylight and kind of dwindled on the back-burner until the inspirational gas ran out.
But it was a pretty darn good idea. And here I am resurfacing it in the form of one my off the beaten path Costa Rica vacations. Hiking Cerro Chirripo, Costa Rica's tallest mountain, has always been for me an experience with spiritual elements. It is physically and mentally demanding. You have to have conviction to do it. But isn't that true with anything in life that is truly rewarding?
And during that moment on the mountain, when you have gone as far as the trail will lead you and as far as your legs and lungs care to sustain you, you needn't ask yourself why anymore (and believe me that question will be posed many times in your head on the hike up). In that moment you'll know for sure. And the answer needs no verbal repeating. It is your private answer and that's good enough.
Moment on the Mountain Super-Trek Design
Day 1: Fly into San Jose to begin. To accommodate any possible flight arrival time, we will assume the first night spent in the big city.
Destination #1: Monte Azul
Day 2: You'll be off in a southwesterly direction, up and over Cerro de la Muerte, and down into the valley where my current home town of San Isidro del General peacefully lies. San Isidro del General is forty-five minutes from the trail-head of Costa Rica's tallest mountain and thirty minutes from what I consider Costa Rica's most beautiful stretch of coastline…a place I have often referred to as the "Big Sur" of Costa Rica. It is, to be blunt, paradise for a mountain and beach lover like me.
Our destination will be a tiny boutique hotel with only four casitas (or rooms) that lies along the road to San Gerardo de Rivas, the little town at the foot of this Talamancan gargantuan of a mountain. The hotel is called Monte Azul and rather than go for a flowery tourist-guide-like description, I will let the words from their own web site speak for themselves…
"It's been difficult to describe Monte Azul in terms of conventional business models. Although terms like hotel, nature preserve, artist retreat or eco-lodge may describe Monte Azul each in a separate context, the terms are still too limiting in describing the complete experience our guests can have here.
We integrate art, nature, community and business at Monte Azul with the hopes that it would be a place where others could come and be inspired."
Let me tell you, it's a cool place. So cool they make their own organic soap, cheese of an infinite number of varieties and coffee so good and natural that it makes waking up in the morning a deeply orgasmic experience (with or without the sex).
Destination #2: The Trekking Experience
Days 3 – 6: Today begins the trek. This is not just any old way to do Chirripo, as there are several. This is the most adventurous way to do it. Designed with maximum spiritual growth in mind. Below is an outline of what will happen…
– First Phase: Hike to Rodolfo's Hut. Time of hike is 4 hours. Spend the night at Rodolfo's Hut. All food is included on this trek, but you should bring your own energy bars for the duration of the hike.
– Second Phase: Hike to Indian Pass Camp where you will spend the night open air camping. Time of hike is 8 hours.
– Third Phase: From Indian Pass to the summit of Chirripo (12,532 feet), then down to spend the night at the Base Crestones park ranger station. Time of hike is 6 hours.
– Fourth Phase: Return to trail head at San Gerardo de Rivas. Time of descent is 6 hours.
Day 7 and beyond: You can do a number of things once you descend from the heavens. You could spend another night in San Isidro and rest your weary bones while sharing a few cold ones with your friends and reminiscing about what you just accomplished. For the anxious types you could quickly head back to San Jose to catch a flight out the next day. Or, you could continue on to a beach location and spend a few nights at a luxury boutique hotel like Arenas del Mar in Manuel Antonio. Hey, you've definitely earned it!
This is one of those off the beaten path Costa Rica vacations that admittedly won't be for everyone. Trekking to the summit of Cerro Chirripo is tough and this particular method of getting there is even tougher than most. But as was alluded to earlier in this post, the really good things we are privileged to experience in life hardly come to us without a little shedding of our blood, sweat and tears to attract them.
Click for Photos of my Second Chirripo Conquest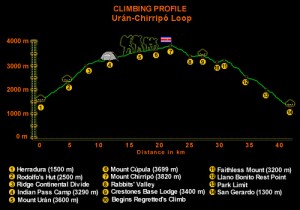 Post by CRG